If you're looking for survey sites with low minimum cashouts and super fast processing times then SuperPay.me is a good one to check out.  With payment to your PayPal account in around 4 hours and the ability to cash out as little as $1, you can get paid after completing just one survey.
Click here to start doing paid surveys now.
If you're considering signing up to SuperPay.me, then a great place to start is by reading this SuperPay.me review.  I'll take you through everything you need to know about SuperPay.me so you can decide whether it offers the right kind of online surveys for you.
Keep reading below for my full review of SuperPay.me or click here to sign up now.
SuperPay.me Review 2023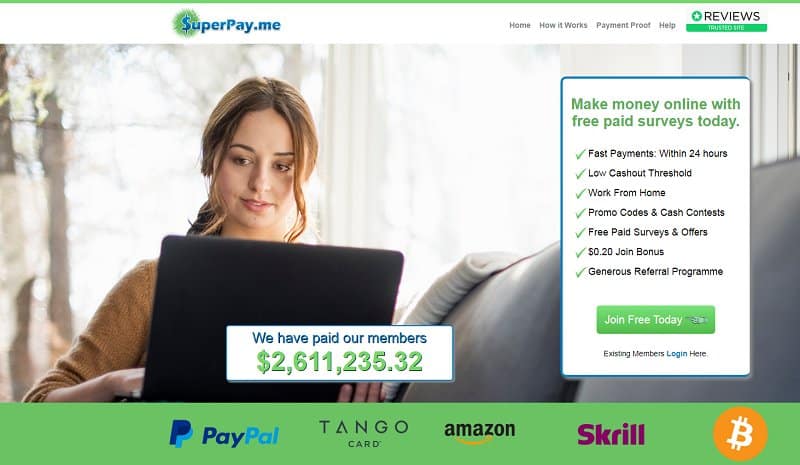 Signing Up
It's super easy and quick to sign up to SuperPay.me.  It is free to join and anyone over the age of 18 is eligible.  It just involves creating an account and completing your profile with a few personal details.  
Make sure you take the time to complete your profile properly and in full as this information will be used to match you to the best surveys.  If you don't do this properly there is a higher chance you won't qualify for many surveys because they can't match your information with the requirements of the surveys.
You'll also get cash just for signing up – although it's just $0.20 – but you'll only need another $0.80 to cash out.  
Earning Points
The main way to earn points with SuperPay.me is by completing surveys, with 100 points being equal to $1.
How much you earn per survey really depends on how long the survey is and how complex it is.  Generally you can expect surveys to take around 10 to 30 minutes to complete and you'll earn anywhere between 50 to 300 points.  When you receive a survey offer, SuperPay.me will let you know exactly how much you can earn and how long the survey should take to complete.
As well as surveys, SuperPay.me offers a range of different ways for you to earn points. You can watch videos, sign up to different websites, click ads and download different apps.  There are also quarterly cash contests where there are prizes worth $1000 as well as the opportunity to get cash back when shopping online.
SuperPay.me has a really neat referral program too where you can earn up to 25% of whatever those you refer earn.  So basically you can earn cash for doing nothing!
How to Redeem Points?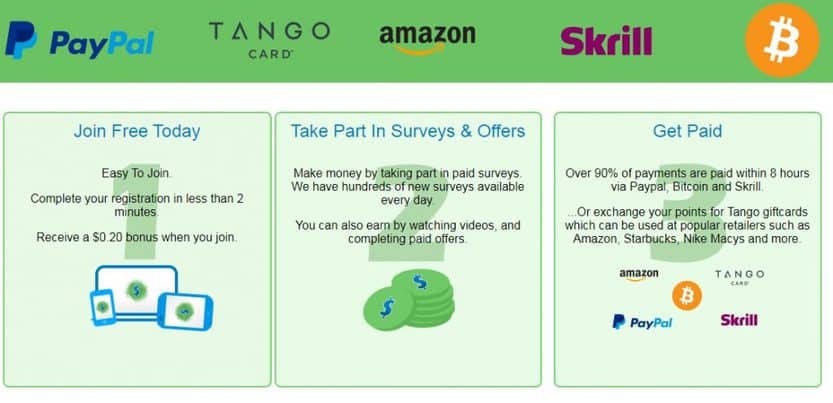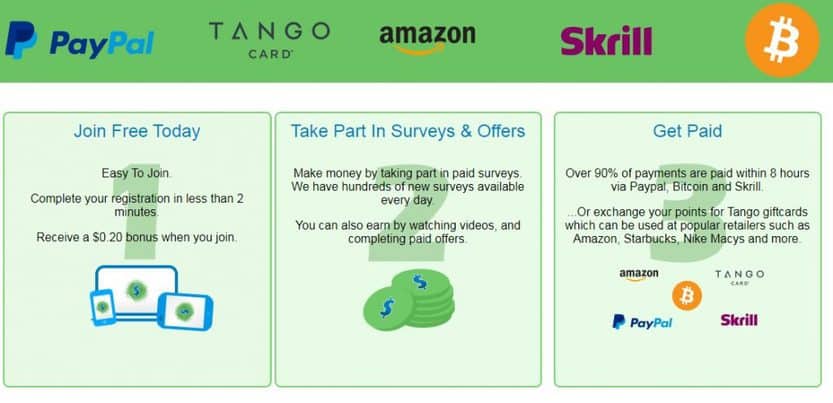 SuperPay.me has one of the lowest cashout thresholds around, as you can cash out as little as $1!  Plus they offer a great range of rewards too.
You can receive payment via PayPal or even Bitcoin, Payza and Skrill.  Through these payment options, you can cash out as little as $1!  However keep in mind that you will be charged a processing fee when being paid this way.  The processing fee is  2% for PayPal and Skrill. 3% for Payza and 10% for Bitcoin.
The better option is to cash in your points for gift cards where there is no processing fee.  You'll need at least 500 points for an Amazon gift card for 1000 points for Tango gift cards which can be used at stores like Starbucks, Macy's and more.  
The really great thing though with SuperPay.me is their super fast payment times.  Most people claim to have been paid within hours, however SuperPay.me claims to make payments within 24 hours.  Do keep in mind though, that the first time you cash out, they may need to verify your account which can take a week or so.
Things to note
You will need to verify your identity before your first payment with SuperPay.me, but once you do this payment seems to be very fast.
Summary – 4 / 5
With basically no minimum payment and payout within hours, it really doesn't get much better than SuperPay.me. SuperPay.me offer a range of opportunities to earn cash as well as an excellent referral program.  
If you're looking for a way to make some quick and easy cash on the side, why not sign up to SuperPay.me to see if it's right for you?
Click here to sign up to SuperPay.me now.
Want to learn more? Read about other sites that offer paid surveys here. You can also read our guide to surveys that pay cash instantly here or find all my survey reviews here.
Suzi is a stay at home mom who juggles earning money online whilst raising 2 kids. She's passionate about continual self development and earning money online for the benefit of herself and others.