Are you wanting to join Harris Poll online, so searching for information via various Harris Poll Online reviews to ensure it's worth your while? Or maybe you're simply wondering – is Harris Poll legit?  Well you're in the right place because in these Harris Poll Surveys reviews, I'm going to answer all your questions, so you can make an informed decision as to whether it's the best survey site for you.
I've been using Harris Poll for a few months now with great success so feel I'm in a good position to explain just what is Harris Poll Online and all the other little tips to make it worth your while.
In this guide, I cover a range of things such as how it works, how it compares to other similar sites and what you can expect to earn per completed survey.  
After you read this guide, you'll have all the information you need in order to decide whether Harris Poll Online is right for you.
Click here to get started making money with Harris Poll Online surveys now!
Is Harris Poll Online Legit? What Other Harris Poll Online Reviews Say
Before joining a platform such as Harris Poll Online, it's completely normal to be asking yourself questions such as "is Harris Poll Online legit ?" or "is Harris Poll Online a scam?". I mean you don't want to be spending your precious time completing surveys just to find out it was all for nothing.
Before joining any survey site, even I ask myself these types of questions. So before signing up to Harris Poll Online I did my own due diligence reading various online reviews to see what they had to say in terms of the question "is Harris Poll Online safe?".
I'm pleased to say that the overwhelming answer is yes, Harris Poll is legit and safe to use.
In fact, Harris Poll Online is one of the oldest and most prestigious poll groups in the world and you can enjoy peace of mind knowing they have been in business for more than 45 years. Whilst many online reviews tend to still recommend Swagbucks over Harris Poll in terms of earning opportunities, you can be rest assured that the platform is certainly legitimate and safe to use.
You can even check the Better Business Bureau (BBB) which is an organisation that sets a level of standards for business to strive for. The BBB then provides a rating for the business based on how well they perform against these standards. Harris Poll Online has been accredited by BBB with a A rating.
It's worth noting though, that I did stumble across some information that there are some sites pretending to be Harris Poll. So to avoid this Harris Poll Online scam site, and ensure you don't inadvertently join the Harris Poll scam site, click here to get the real deal.

Signing Up For Harris Poll Surveys
If you're wanting to join Harris Poll; signing up is easy.
Simply go to the Harris Poll online sign in page where you will be promoted to type in some personal information.
During the sign up process you will be required to enter in some details that may seem a little bit personal such as your income, who lives in your household etc – but this information is used to better match you with surveys. So don't skip this information it's important!
Harris Poll Online Surveys
So what is the Harris Poll Online Survey site all about? Basically you earn Harris Poll points referred to as "HIPoints" by completing surveys on a range of topics.
On average, you can expect to be invited to complete 3-4 surveys per month which is quite low compared to the number of surveys you can expect to be invited to on other sites such as Swagbucks. However you will earn around 75 to 150 HIPoints per completed survey which is a fairly standard rate. Usually the longer the survey will take, the more points you will earn.
One advantage of the Harris Poll surveys, is even the surveys that you commence but don't quality for, you will still receive 15 HIpoints which is quite high compared to other sites.
From time to time, the opportunity may also arise where Harris Poll will invite various members from the Harris Poll Consumer Panel to participate in other special survey groups or focus groups.
Ways To Earn Money With Harris Poll
The only real way of earning Harris Poll Online rewards is by completing surveys.  However it's worth nothing that for each survey you commence, you will receive entry into the sweepstakes where they give away $10,000 each quarter.  So that's an entry into the sweepstakes even if you are disqualified for whatever reason whilst taking the survey.
To access these opportunities, simply go to your Harris Poll rewards login.  Unlike other survey sites, opportunities are not emailed to you, you will need to check your profile within the site.
Harris Poll Rewards
Once you reach 1250 points within your Harris Poll panel, you can redeem your points for gift cards, merchandise or donate them to charity.  Unfortunately, the Harris Poll online club doesn't have a cash out option like other survey sites like Swagbuck.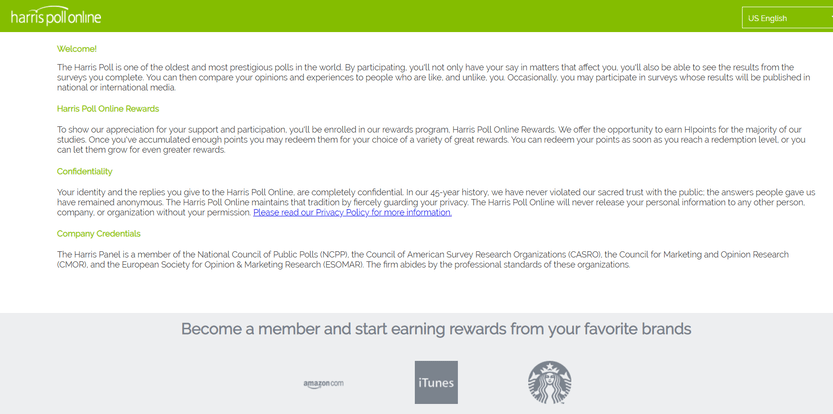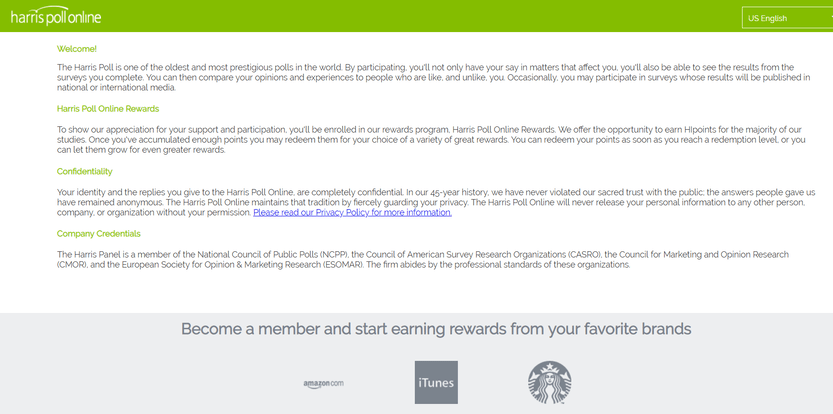 It can take a while to see your Harris Poll results as you require a minimum of 1250 points before you can cash them in for rewards.  Given a completed survey is worth around 75-150 reward points it may take awhile to reach this minimum threshold.
For 1250 points, you can receive a $10 gift card of your choice, making Harris Poll points worth just under 1 cent each (slightly less than Swagbucks).  Gift cards are available from a wide range of retailers such as Amazon, Home Depot, iTunes, Walmart and more.
Verdict – 9.0/10
If you don't want to be completing surveys every day, but  are interested in completing a few here and there for gift vouchers, then Harris Poll is definitely worth considering.  With the Harris Poll 2023 app its super easy to complete the surveys anywhere such as on your commute to work or whilst waiting for the kids at after school sports.
If you're interested in trying it out, sign up today – you've got nothing to lose from earning HIPoints right now!
Find the highest paying survey sites here or ones that pay cash here. You can also read our Swagbucks review here or find all my survey reviews here.
Suzi is a stay at home mom who juggles earning money online whilst raising 2 kids. She's passionate about continual self development and earning money online for the benefit of herself and others.