>> Tell First Opinion what you think – get paid. Simple, You share your opinions and show us how you see the world – we give you rewards and cash >>
Today I will talk about First Opinion paid surveys, a decent and safe, legit, and secure way to earn extra money on the side.
First Opinion is a paid surveys platform with many ways to earn money. First Opinion is focussed on users completing regular paid surveys and earning rewards that can be redeemed for cash or gift cards. Plus they have many other features for regular users such as one on one interviews, testing of games or apps or software, polls, and complex research studies that PAY A LOT.
First Opinion is for sure a paid survey website you should be logging into on a regular basis to see what is there. Getting into a big research study could pay you as much as $500 for a day or few days of side work.
Click here to get going on First Opinion

Many folks I know love the game testing or opportunities for in depth higher paying 1 on 1 online interviews with market research professionals.
The Sign Up Process for First Opinion is Like This:
Kinda hard but worth it.
Going through the registration process for First Opinion is relatively easy and involves your basic name, birthdate, email and the phone number is optional.
Once you get signed up for First Opinion paid surveys, you do need to budget time for a rather lengthy and time consuming filtering and questionnaire process to get to your first survey and earning opportunities with real meat on the bone.
It is a bunch of additional effort to get to the point where you get the good paying surveys and even better paying interviews or game or app testing, however you will be rewarded with extra money. Doing all this extra work does get you more reward points for your initial balance.
Earning Rewards on First Opinion is Like This:
Lucrative options.
You can cash out via Paypal cash payout to your Paypal account for doing paid surveys, or you can choose from hundreds of retailers to earn gift cards as good as cash.
Just look below at all the categories and activities you can complete to earn rewards and cash on First Opinion: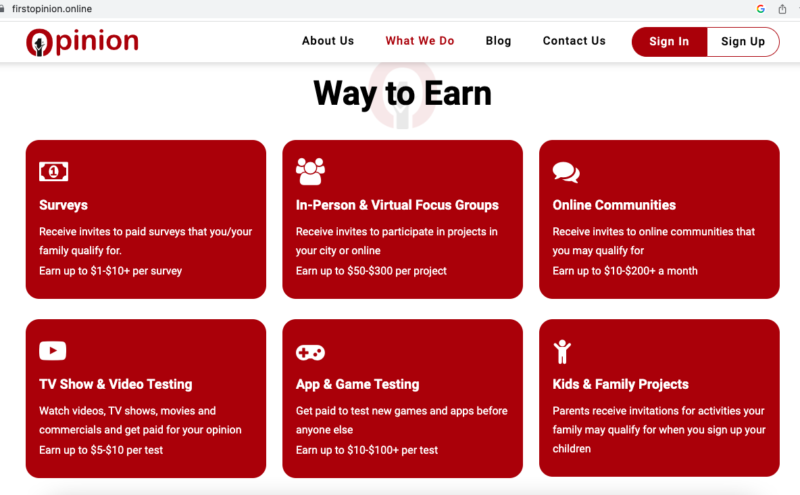 So to put it in reference, every 125 points on their platform equals about $1 cash. The screening process can generate many hundreds of points so you get something in return for your time and you could earn over $10 for doing the screening questions.
And you can even donate some of your earnings to a Charity to give back to those in need.
The Good and The Bad About First Opinion:
Much more good than bad.
The Good:
There will be surveys waiting for you to sink your teeth into upon signing up to earn more money
The in-depth screening process can be saved as work in progress so you can do it over time to get your $10 ++
Many activities to earn money like interviews, testing of games, or complex research family studies
Cashing out on Paypal is a big plus

Earn 100 points for joining. The survey topic is listed so it can help guide you in choosing which survey to take.
Having Paypal linkage makes it easy to cash out in addition to gift card rewards.
The Bad:
There is a heavy amount of new user screening upon sign up
Qualifications for surveys can sometimes take a while as they want specific demographic criteria
Check it out now to get going on First Opinion on this link

And that is a wrap, Survey Suzi says any paid survey pro will want to have First Opinion in their back pocket.
Suzi is a stay at home mom who juggles earning money online whilst raising 2 kids. She's passionate about continual self development and earning money online for the benefit of herself and others.