Earn cash and rewards by taking surveys, completing offers, and watching videos on GrabPoints paid survey platform
Today I will be talking about GrabPoints paid survey platform and how you can do tons of activities to earn extra cash. Not just paid surveys, GrabPoints offers video testing, coupon offers, surveys and other cool features to give you an immersive experience while earning your extra cash on the side.
GrabPoints is one of the biggest paying paid survey websites and gets a lot of cash into users pockets.
GrabPoints is a safe, secure, and legit paid survey website that values data privacy and does not sell your personal information on their mobile app and desktop.
Click here on this link to get going on GrabPoints
GrabPoints is a rewards-based community that compensates users for completing actions online. Advertisers pay GrabPoints for engagements from users like you. You do online activities such as watching videos, completing surveys, completing offers, downloading apps, and more. Once users collect enough points (only 2250 points for $2 Amazon or $2 PayPal), redeem a reward from the GrabPoints Reward Store and cash out.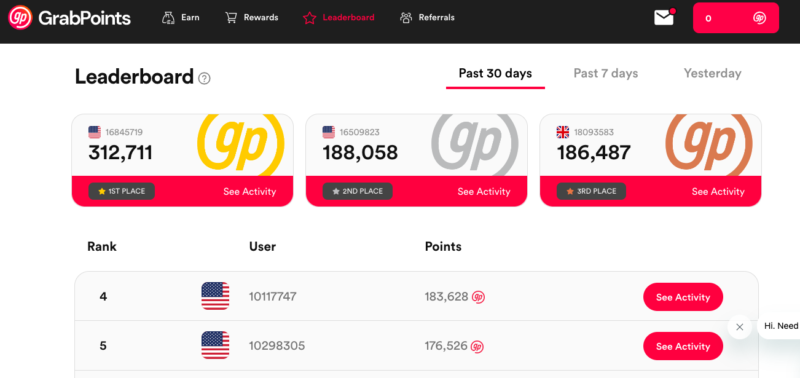 Signing Up on GrabPoints is Like This:
Fast and simple.
GrabPoints has a super cool dashboard with easy to understand user interface and a quick sign up after you basic information. You will earn 500 points just for signing up and doing your demographic screening section.
Spending the time to go in-depth on the screening questions will pay off for you on GrabPoints because they have lucrative opportunities like video watching.
There will be paid surveys waiting for you to complete. Get going on GrabPoints now.

Earning Rewards on GrabPoints is Like This:
Cash money in your pocket.
You have lots of ways to earn cash on GrabPoints and a low minimum withdrawal of only $2. You can do game testing, video testing, Fortnite and Roblux paid testing, You will have a cool Leaderboard on your login screen that motivates you to achieve extra cash earnings.
Every action has a dollar value attached to it so you know what paid survey feature will pay you what type of money. You can earn money via paypal or giftcards or even Roblux bucks.
The Good and The Bad about GrabPoints:
The Good – First off, GrabPoints is one of my personal favorite paid survey websites to earn extra money because of all the various earning activities to get rewards. Well-designed website and lots of daily new offers to grab and earn cash from. A must do paid survey website.
The Bad – well not much for GrabPoints. The demographic screening questions are detailed so that can be a bit time consuming to complete. You need to log in frequently to jump on the limited high paying opportunities.
Click here to register for GrabPoints
And that is the end of my write up on GrabPoints, one of the best paid survey platforms.
Suzi is a stay at home mom who juggles earning money online whilst raising 2 kids. She's passionate about continual self development and earning money online for the benefit of herself and others.