Voice your opinions, earn rewards and make a difference. Membership is Free, signup today at MySoapBox Panel!
Today I will be doing a write up on MySoapBox paid survey panel to help you earn some extra cash doing paid surveys. MySoapBox is an active online community of like minded survey folks like yourself who are voicing unfiltered opinions and hot takes about products and services they care about.
MySoapBox is a safe, legit, and secure website that values data privacy procedures and protects your identity. MySoapBox is an online research community that collects feedback from members on products, services, and experiences. The most successful brands depend on MySoapBox paid survey members to help them evaluate how they are doing, what they need to do better, and what they should create in the future and in return they earn extra cash for their time.
Click here to get going on MySoapBox paid surveys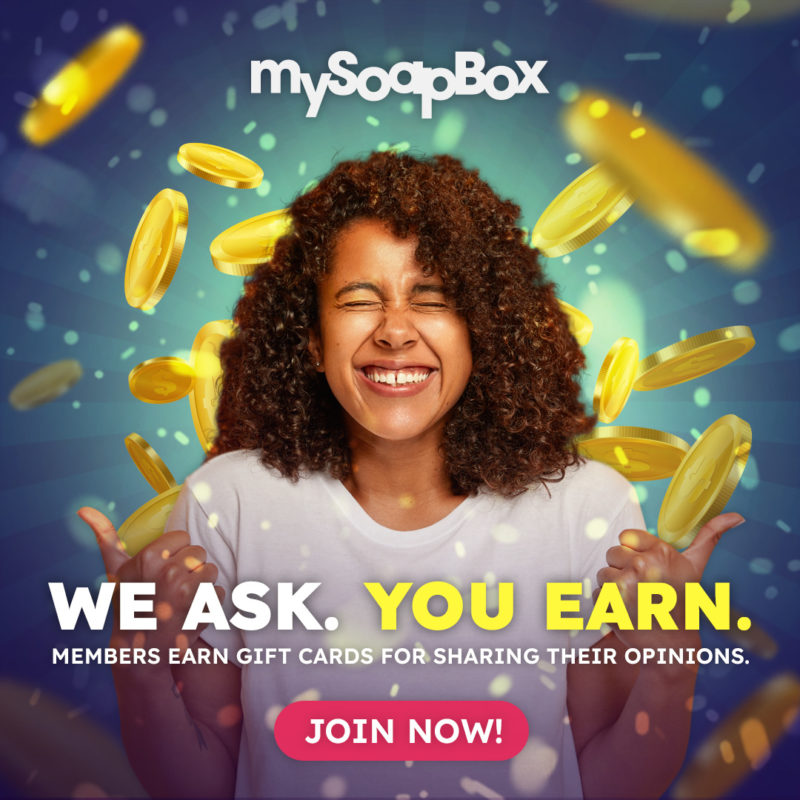 The Sign Up Process on MySoapBox is Like This:
Fast and simple.
Like most reputable and big paid survey websites, MySoapBox has an easy sign up process and after proving your basic admin information, there will be paid surveys waiting for you to complete.
MySoapBox gives you the option to participate in different types of studies. The more types of studies you agree to be part of, the more you will get invited. You can also choose how we invite you. MySoapBox will automatically invite you via email, but opting into other options for invitations such as text messages will ensure you are alerted right away when we have something for you to participate in so you don't miss out on your chance to earn points.
You go through a series of screening and classification questions to determine which specific online community is a best fit for your interests on MySoapBox
Click here to check out MySoapBox
Earning Rewards on MySoapBox is Like This:
Solid.
MySoapBox gives out a lot of cash to folks like yourself doing paid surveys to earn extra money and over $2,000,000 million dollars have been disbursed in gift cards recently. The initial sign up will earn you 1,000 points or so.
MySoapBox mainly gives out rewards in the form of gift cards to tons of retailers. The minimum threshold to receive your first cash reward is 16,000 points and then after that, you can cash out anytime. Most of the surveys will pay out about 700 to 1,500 points per survey, not too bad.
The Good and The Bad about MySoapBox Panel:
The Good – MySoapBox is a big paid survey platform so it is a good idea to check in regularly and they push good opportunities to your SMS or email. It is very focussed on just knocking out paid surveys and there is not a lot of distractions.
The Bad – There is a higher threshold to get your first cash gift cards paid out so that may turn off some folks so you need to budget time to keep pushing to get your first batch of surveys completed.
Click here to get going on MySoapBox

And that is the end of my write up on MySoapBox, a pretty nifty basic yet solid paid survey website.
Suzi is a stay at home mom who juggles earning money online whilst raising 2 kids. She's passionate about continual self development and earning money online for the benefit of herself and others.