– From your shopping habits to your political thoughts, your favorite brands to the football team you support, your opinions are valuable, and businesses are willing to pay for them –
I am coming to you with some insights on Prime Opinion, a pretty sweet paid survey website with multiple ways to earn money and a real focus on you getting cold hard cash in your pocket on the day that you sign up.
Prime Opinion has the mission to empower consumers to voice their opinions and thoughts about the products, brands, people, and teams that they care about most. It feels good to vent, right?
Click on this link to get going with Prime Opinion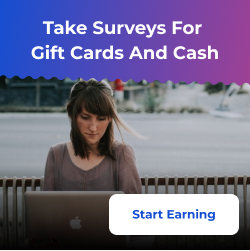 Prime Opinion is a safe, secure, legit and not a scam paid survey company after my verification. You get going on the platform and you will learn that Prime Opinion is super focussed on having you knock out paid surveys to get rewarded and give them quality feedback. Everyone wins.
The Sign Up Process on Prime Opinion is Like This:
Fast and Effortless.
The sign up process gets you at least $5 right away as a free bonus Prime Opinion is advertising on their website now. The requirements are basic, just name, email, confirmation email and you can get cracking asap. You even receive a nifty welcome bonus that accelerates your earnings. I feel the love from Prime Opinion.
There will be paid surveys for cash waiting for you after the signing in process so you are free to earn from day one. I love how you can cash out literally the same day you sign up if you put a little effort in to do a few surveys. Pretty cool.
Check out some details on the structure below and I appreciate the minimalist, easy to understand and super focus on earning money from just doing surveys:
Earning Rewards on Prime Opinion is Like This:
Cash Focus.
First and foremost, Prime Opinion claims to pay you 150% more cash than other sites. This is a claim you need to verify for yourself. Bold statement and I think it may be true. The paid survey opportunities are a cool selection of video games, computer and digital items, sports teams, celebrities, athletes, online and in store shopping, and product ideas – fun topics to crank out money making surveys on.
There is NO MINIMUM to withdraw cash. Yes that is right, get onto Prime Opinion right now.
Click this link to get signed up for no minimum cash withdrawals on Prime Opinion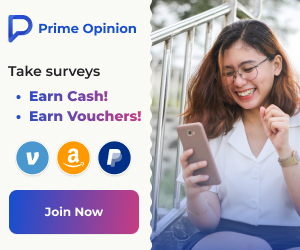 Within hours you will have cash in hand as Paypal transfer, bank account transfer or from a selection of your favorite retailers or just Amazon.
The Good and The Bad About Prime Opinion:
The Good – well just about everything is good here about Prime Opinion and you cannot lose with no minimums and lots of surveys to complete. This should be a staple in your survey diet and the simple website makes it a breeze on mobile or desktop.
The Bad – this website Prime Opinion has a lot going for it, it is simple with just paid surveys which some folks may not appreciate but I can go to other platforms for more whiz bang features like video testing and online interviews. Just give me surveys to knock out.
Check out this link to get cranking on Prime Opinion

And that is a wrap on my 101 overview of Prime Opinion and I would say it is raining Cash over at Prime Opinion with no strings attached.
Suzi is a stay at home mom who juggles earning money online whilst raising 2 kids. She's passionate about continual self development and earning money online for the benefit of herself and others.