Download the Opinion Edge Mobile App and start earning money by sharing your opinion on surveys – Earn money anywhere, anytime on the go!
Today I will write up some thoughts on a mobile first paid survey opportunity to earn extra cash called Opinion Edge. Right now they are pushing hard to get more users on their mobile apps for iOS and Google Play so that means time to earn some extra money asap for my survey side hustle readers.
Opinion Edge paid surveys is a straightforward and simple to use way to earn money – do your screening questions and most surveys take 5 to 10min and clearly tell you how much moey you make, like 1 to 5 dollars per survey. Easy winnings.
Click the link to get downloaded on Opinion Edge
The Sign Up Process on Opinion Edge is Like This:
Simple & basic.
It is all done through the Opinion Edge paid survey app and a few clicks, basic information and you are signed up. Pro tip is to answer a few of the screening questions under profile questions section and you will instantly get survey offers popping up for your to complete. You do not need to complete all the categories and even all the questions to get your first surveys.
Opinion Edge needs you to answer some preference, hobby and background questions to really target the best earning opportunities for paid surveys to your app. I am able to get a complete survey done while waiting in line for my Starbucks usually.

Earning Rewards on Opinion Edge is Like This:
Clear & good money.
On Opinion Edge paid surveys, every 100 points you earn is equal to $1 dollar cash. You can redeem your points for plenty of gift cards. The average Opinion Edge paid survey will be about 100 points, maye 60 maybe 200+ points and about 5 to 15minutes, I would say 6 to 8min is the sweet spot to getting them done.
Very simple and a good thing to use while waiting in line for some extra cash in your pocket.
The Good and The Bad About Opinion Edge:
The Good – earning money is easy and simple and there is nothing complex about this paid survey app. I like having basic options on hand I do not need to dive too deep into for brief moments in my day I can grab extra cash for my opinions.
The Bad – The Opinion Edge platform is simple and fairly new, so it does not have slick UI and may turn off some folks with the basic functionality.
Click the link here to get setup on the Opinion Edge paid survey app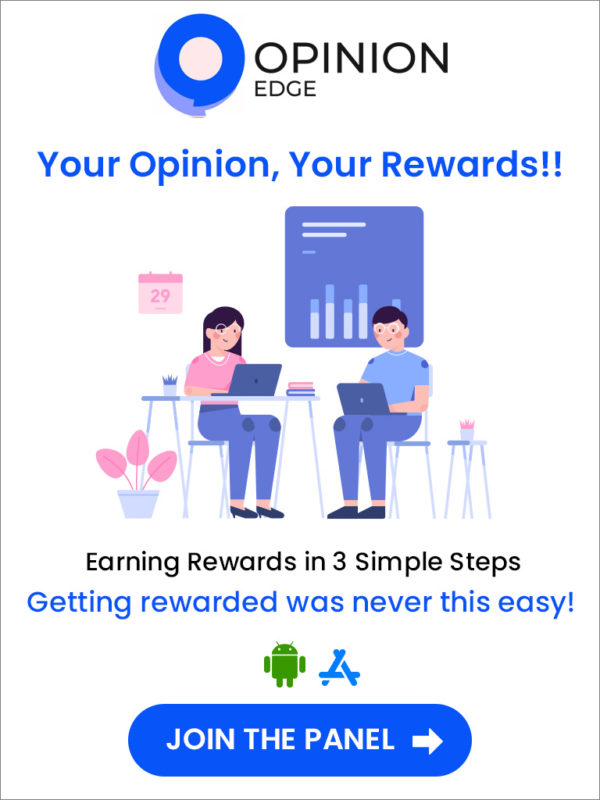 And that is the end of my write up on Opinion Edge, do not wait, start earning the extra money.
Suzi is a stay at home mom who juggles earning money online whilst raising 2 kids. She's passionate about continual self development and earning money online for the benefit of herself and others.