Paid surveys are one of my favorite ways to earn a bit of extra cash, and there are many genuine sites where you can do them. So what about Survey Voices?
If you read through Survey Voices reviews you may end up confused. It's a mixed bag of either overly positive or negative feedback leaving you wondering – is Survey Voices a scam?
In this honest review, I'll answer the question is Survey Voices legit and cover my experience using them so you'll know whether it's worth your time signing up and completing their paid survey offers.
Click here to check out Survey Voices right now.
Is Survey Voices Legit? What Other Survey Voices Reviews Say
When a site has so much positive and negative feedback it's only natural to ask – is Survey Voice research a scam?
The company itself seems to be legit, operating out of the USA from New York and works by connecting you to other sites where you can do surveys and complete other special offers to make money.
So far, so good. But is Survey Voices real when it comes to all their offers? This is where problems seem to arise.
Is Survey Voices A Scam?
Unfortunately my Survey Voices review found there to be many complaints made against this company, with people claiming Survey Voices scam calls and other problems.
It seems that Survey Voices legit offers do exist but you have to juggle many spammy and scammy sites to find them.
Not all of their offers appear to be legit, and with no real customer support and the potential for misuse of your private information by third part companies, using this site makes some people nervous.
However, there are some good offers underneath, but I'd only recommend using this site if you're savvy when it comes to what is spam and what is legit.
Signing Up For Survey Voices Surveys
Joining Survey Voices is very quick and easy, but they do require personal information. To join Survey Voices, you need to give them your email address, contact number and address. You can do this here.
This is a lot of personal information, and whilst you can trust Survey Voices with the data, once it's in the hand of third parties and survey site routers, it's anyone's guess.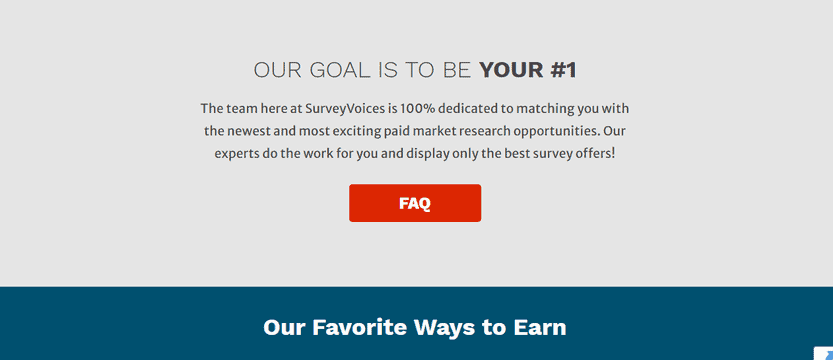 Survey Voices Online Surveys
The online surveys offered by Survey Voices involve third party market research where they take you to other sites to do surveys. Some of these offers are legitimate but unfortunately many of them are not and you need to use your intuition when it comes to some of these offers.
Online surveys for money through sites such as Toluna and Swagbucks will be legit, and the advantage of using Survey Voices is that they can take you to special offers which you wouldn't normally receive by being signed up to a survey site.
Ways To Earn Money With Survey Voices
The advantage of making money online with Survey Voices is that they can refer you to offers like clinical trials and one off high paying surveys.
They also refer you to other survey companies where you can earn money from surveys and phone calls for longer survey participation.
However, they can also refer you to some spam sites offering $1000 gift vouchers and iPhones – just ignore these offers. They aren't worth your time and energy (or disclosing your personal details for).
Survey Voices Rewards
As stated above, Survey Voices is an aggregate site so you don't earn money from them, but from sites they refer you to.
To get Survey Voices rewards, you need to reach the threshold for each individual site they refer you to. This can vary a lot depending on the sites you choose to sign up to and the rewards they offer.
Many of the survey sites with paid surveys are listed in this article where you can find the average pay. You can expect anywhere from $1 – $5 per survey, which can usually be redeemed for cash or gift vouchers.
Other instant rewards like phones and cash usually aren't worth your time.
Verdict – 4.0/10
I'm all about using your time in the most efficient way, and from my Survey Voices research and experience, there are far better sites to spend your time making money.
Whilst they do conveniently act as a gateway to other sites and the poll Survey Voices research can be interesting, there are far too many spammy offers and not enough support.
My recommendation is to do your own research of top survey sites here and sign up that way. You'll avoid the spam and have more luck making money!
Or click here and take a look at Survey Voices now.
I hope this review has helped you! Just getting started with paid surveys? An easy and safe way to get started is to take surveys for Amazon gift cards here – it's easier than you think! Or find all my survey reviews here.
Suzi is a stay at home mom who juggles earning money online whilst raising 2 kids. She's passionate about continual self development and earning money online for the benefit of herself and others.